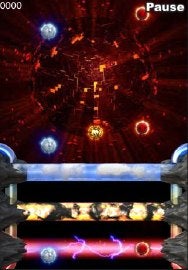 The iPhone was met with a lot of expectations.  I think this was partly due to the fact that the iPhone has a lot of things to offer in terms of features.  Of course, we cannot discount the fact that it is backed up by the irresistible name of Apple.  Steve Jobs and his team have to be applauded for what they have done to build up the excitement and anticipation for the iPhone.  And even now that it has been out for quite some time, people are still clamoring for it "" bugs and all.
Well here is another thing that iPhone fans can be happy about "" it has the capability to play great games as well.  Mobile gamers who happen to be able to afford the iPhone have a lot to look forward to in terms of games.  Resolute Games Corp. of Memphis has released a music game called ThumStruck.  Highly addictive, ThumStruck features music by Skillet, which is a band under Ardent Records.  It is rhythm based and is currently free for downloads.
Since it was released on the 16th of October, the game has reached incredible heights.  It is already within the top 100 free downloadable games and is part of the top four games for the iPhone.  They get about 2,000 downloads a day "" imagine that!  If I were you, and I had an iPhone, I would download the game NOW because the full version will be released later this month in the iPhone App Store for $4.99.